Exploring Archery
Months a go my sister invited me to try out her favourite hobby, Archery. Her club were holding an open day for free. Why not?! I reckon exploring archery will only help when the zombie apocalypse happens if I can use a bow!
The event was to be held at Center 4 in Grimsby (Address & Prices at the bottom) which is local to me so off I went. As with all new things I was a little nervous – but you have to try new things!
On arrival I was surprised by the plentiful off-road parking. Always a plus for me. I hate searching for parking! I had a look around as I walked on to the field. A little area for the kids with plastic bows, sucker arrows and plastic targets so all ages could join in the fun.
Having a five year old daughter that was another huge plus because such things can be hard to attend some times when on daddy duty.
I was greeted by my sister and after a little chat we headed over to where the targets were set up. I was given instruction by a super friendly guy and the whole atmosphere was perfect for a novice.
Taking Aim
My first shot hit the stand in the upper right corner. THUNK as it embedded itself deep in the wood. This wasn't as easy as I'd imagined! I corrected a bit and let another two shots fly, this time hitting the target. Happy Rich!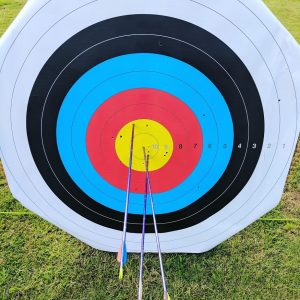 My partner and I were given constant supervision, encouragement and instruction on things to try. The members couldn't be more helpful, finding a left handed bow that suited my partner.
We were told that a good thing to do was to go for "Grouping". Aiming to get shots clustered together as close as possible. As you can see front he picture to the left I didn't do half bad at 10 yards. Moving up to what I think was 25 yards things became more difficult but just the correct side of fun and challenging.
I found myself really thinking about what I was doing, trying to stay calm and think about technique. It was great fun!
As we continued in the lovely weather, more people arrived and got involved. I love seeing that.
After a few hours my fingers were somewhat sore and we called it a day but both of us are very eager to return and actually join up to become members.
Pricing
For a beginners course priced at £45 you recieve 6 x 2 hour sessions with all equipment provided. You don't need to book as this is a rolling course, just turn up and have fun. After this it's £5 per session + £10 bow hire. I've looked and kits to get you started may cost around £100. I think that's pretty reasonable.
Senior membership is £100 per year. This includes Archery GB insurance and membership to the East Midlands Archery Society, Lincs County and AFD membership.
Junior is £50 for the above. Also this includes being able to shoot at other club grounds either free or at heavily reduced rates.
AFD Archery Club have a Facebook group you can join by CLICKING HERE!
Piranha Score
Pros
Friendly atmosphere, accessible activity at what I would consider a reasonable price when compared to other things. With your own setup the costs can spiral, as with anything. To get started, it's not bad at all.
Cons
The only con I could think of is a bit of a personal one with times. It would be great to have access to more than one session per week so as to fit around "life" a bit. But I'll be back when possible!